CDP: COMMUNICATIONS MANAGER
Led launches including 'The World's Renewable Energy Cities' and 'Carbon Majors'.
The latter attrached 400+ pieces of global press coverage, shifting attention to the big players responsible for climate change.
Produced three part film series: How to build a sustainable city. Focused on learnings from Memphis, London and Stockholm on flooding, climate change resiliance and renewable energy.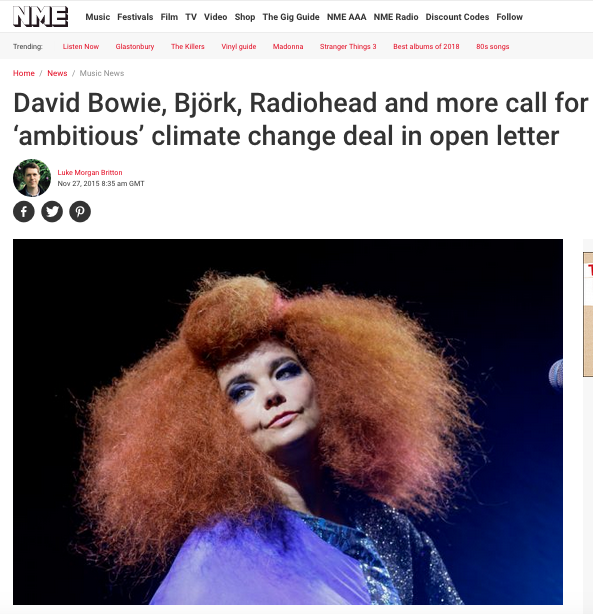 JULIE'S BICYCLE: COMMUNICATIONS ADVISOR
Led on the 'Artists coalition' for The COP21 Climate Change Conference in Paris. Co-ordinated communications and media strategy for coalition of 350 leading global artists including David Bowie, Bjork, Emma Thompson, Damon Albarn and Ian McEwan. Worked in collaboration Julie's Bicycle, The Guardian environment team with impact recognised by UNFCCC.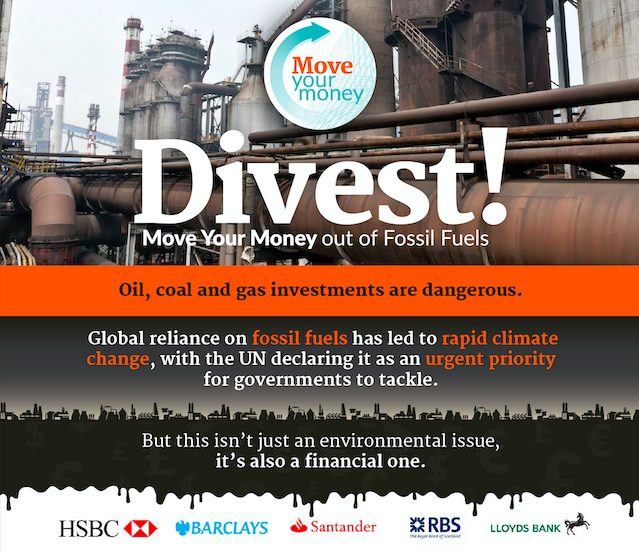 MOVE YOUR MONEY: CAMPAIGN DIRECTOR
Campaign Director for Move Your Money 'Divest!' campaign. Led brand refresh and campaign, spokesperson across broadcast and broadsheet media for strategic campaign to encourage Britain's high street banks to dump high-risk fossil fuel assets. Over 10,000 commitments from private bankers to divest and switch bank accounts, working in conjunction with Good Money, 350.org, Joseph Rowntree Foundation. Spokesperson on Sky News, Channel 4 News, BBC, The Guardian, The Independent and The Times.
MARINE POWER SYSTEMS: 'Making WAVE POWER WORK'
Marine Power Systems (MPS) is a wave power engineering company based in Swansea, South Wales. Throughout 2016 & 2017 the organisation needed to strengthen its brand and increase investor confidence in the British wave power sector in the run up to at sea testing of their 'Wave Sub' and consequent investment raise. Good Shout Studio worked with them to position their brand; refine their messaging and website and build a high impact communications campaign. I subsequently media trained their management team; produced a new industry report and digital content including a creative corporate animation to bring their technology to life. We then executed a successful integrated media relations and digital campaign. For more information go to www.marinepowersystems.co.uk
ABUNDANCE INVESTMENT: COMMUNICATIONS ADVISOR
Abundance Investment is one of the world's leading alternative finance companies. Based in London, UK, purpose driven Abundance pioneered green finance crowd funding to enable wide scale roll out of community owned renewable energy and other 'positive' investments. I was a communications advisor for Abundance from 2013 to 2016, as they refined their brand, increased their digital and media campaign activity and scaled their investment offer. Working with the marketing and communications team on brand development; communications strategy; content development and media relations; the first Human Nature art show pop up was also produced in conjunction with Abundance, with the roll out of exhibitions across the UK thanks to match funding from Ashden following their Ashen Award win for leadership in renewable energy in 2014. For more information go to www.abundanceinvestment.com
SOLARCENTURY: PUBLIC RELATIONS MANAGER
Founded in 1998, Solarcentury has been around since the early days of the solar industry and is part of the rapid evolution that has made PV the mainstream energy source that it is today. It is one of the most respected solar companies in the world and is in business for a purpose: to make a meaningful difference in the fight against climate change through the widespread adoption of solar power. As Public Relations Manager from 2006 to 2012 I led cross company brand development and messaging, launched Solarcentury into European markets and built and executed integrated media and digital B2B and B2C strategies including "We Support Solar", to secure solar Feed-in tariffs (FIT) and wider policy support in the UK. FIT lifted the UK solar market from 8MW solar capacity in 2010 to 80MW in 2011, with 13 GW of solar powering the UK in August 2019. I also co-launched SolarAid, the international solar charity enabling energy access in the developing world. For more information go to www.solarcentury.com